Production
Machine production harbours huge potential for ecologically sustainable development.
Environmental management
Accepting responsibility has been standard at Lista Office LO for fifty years. Since 1973, we've been maintaining energy statistics, nowadays integrated into our ISO 14001-certified environmental management system.
Environmental officer
We have a dedicated environmental officer who participates in planning, implementation and monitoring of all our activities to ensure that we are continuously improving our energy and raw material footprint.
Green energy
Our production plants run entirely on renewable energy, using solar systems installed at our Degersheim and Arnegg plants.
Wastewater treatment plant and air filter system
We have our own wastewater treatment plant where we clean the pollutants out of the waste water from our coating process. An air filter system purifies air contaminated during the process of curing the powder coating.
Logistics
Lista Office LO does all its production in Switzerland. Our showrooms and authorised retail partners have a close link to our customers and we have short transport paths and low emissions. We also work hard to avoid empty journeys and all our packaging is reusable, made from wood or cardboard.
Our services as the key to more sustainability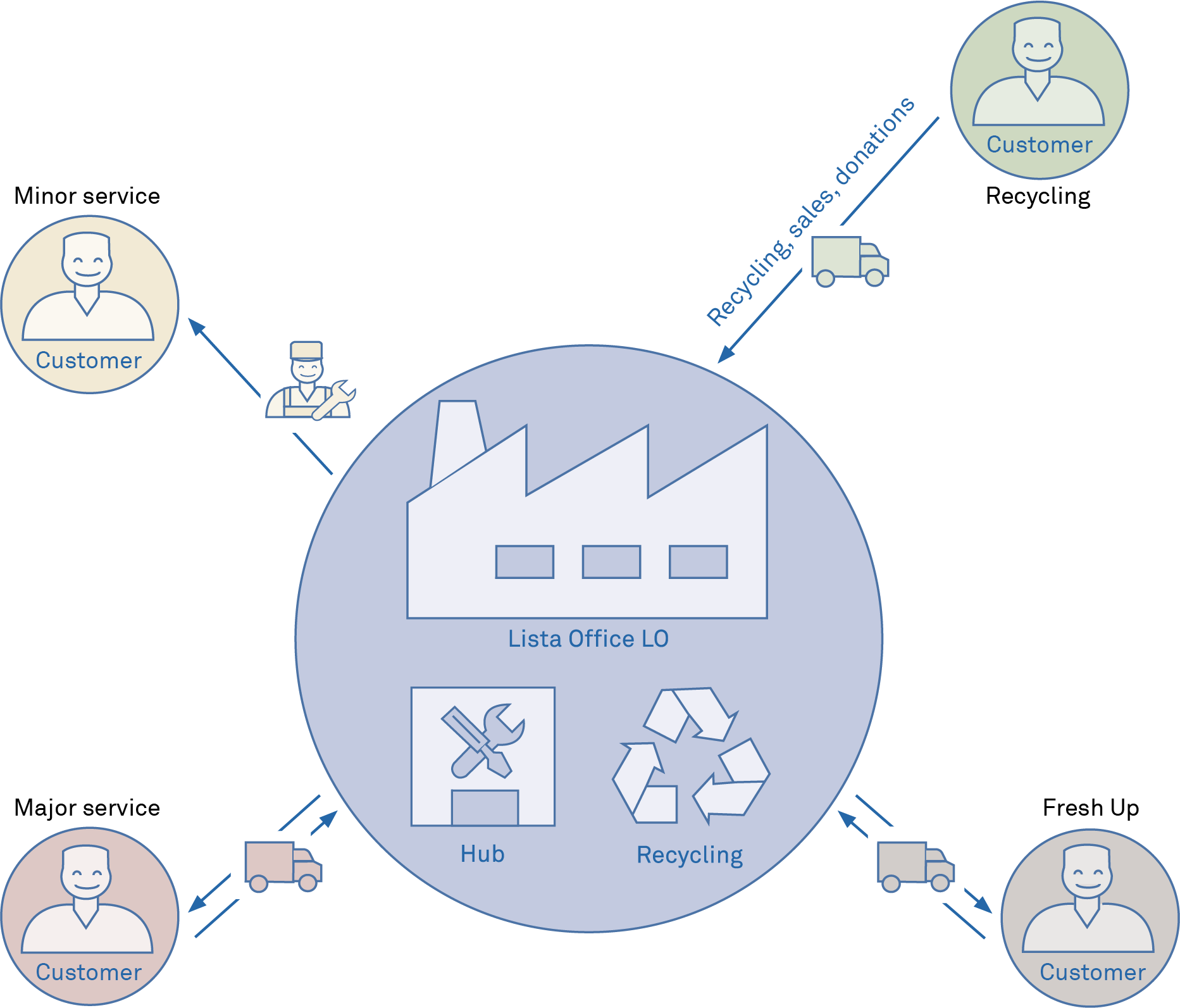 Minor service
Minor repairs and cleaning on the premises by a Lista Office LO technician. Furniture remains on the customer's site.
Major service
Furniture is collected and taken to the central hub. Individual parts are repaired or replaced and the furniture is returned to the customer in as-new quality.
Recyling
Furniture is collected, dismantled into separate parts, sorted and recycled. Usable furniture is purchased by Lista Office LO or returned as a donation.
Fresh Up
Furniture is collected and dismantled into separate parts. Defective parts are replaced; the furniture is re-coated, reassembled and then either returned to the customer or resold.
Durable and ecologically compatible materials
We take a mindful approach to our raw materials and use products that are as harmless for people and planet as possible.
Steel
The core material for our products is one of the most sustainable: steel has no chemical additives, combines superbly with other materials, and is fully recyclable.
Coating
The two procedures we use on our surfaces are also environmentally friendly: powder coating and wet coating with solvent-free products.
Wood
We obtain materials such as fresh coniferous or deciduous timber, storm-damaged timber and sawmill timber waste from suppliers who are ISO 14001 certified, members of the WWF Wood Group and apply the FSC label.
Plastic
We use primarily POM or polyamide for our plastic components. Other small parts are made from polypropylene, ABS or polyethylene.